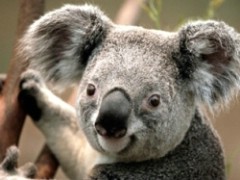 PHASCOLARCTOS CINEREUS or Koala. Is a small tree-dwelling, herbivorous marsupial mammal, which averages about 9kg (20lb) in weight, varying in size depending on the state of Australia in which they reside. Koala is an ancient Aboriginal word meaning "no drink" because it receives over 90% of it's hydration from Eucalyptus leaves which are commonly called the gum leaf.
Hi there. Most people call me Grammy or Koala. I live in Penrith City, a greater western suburb of Sydney, Australia, just beneath the beautiful Blue Mountains Ranges.
My grandchildren are my life!!
Thankyou admins and TD's you do a great job.