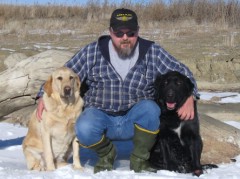 My name is bryan , I live in South Dakota with my girl Spring , 3 dogs and 2 cats.
Just added a few pics of my new grandson , born 3-17-09 , 1 month premature , momma and baby doing fine , his name is Thomas Jay . 5.2 lbs , 18" long , born 8:31 am
Please check out my home page , try and help bring my grand daughter back to us .
I like the out doors , hunting , fishing and sometimes camping.
Just a couple of new pics of our cat Bootz and Cookie our dog , they look like they could be brother and sister.
Enjoy playing ludo , and yatzy , will play x3 yaty , and just joking and kidding with everyone , so if you get picked on a little , just remember , it's all in fun. Go ahead and holler and I'd be glad to play.
Have met some pretty interesting people here and hope to meet more , gl in all your games and have fun.
Added a few pics of the snow around our place and of a day of ice fishing .
If you visit , please sign my guest book .